รายละเอียดสินค้า: TURTLEBOT 2 COMPLETE KIT
A fully assembled & tested TurtleBot 2, including a pre-installed copy of ROS.
WHATS INCLUDED?
Everything you need to get started with TurtleBot!
Mobile Robot Base
Netbook (

HP G4S65UT#ABL

or better)

Orbbec Astra Pro
2200 mAh Li-Po Battery
Fast Charger
USB Stick TurtleBot Installed
TurtleBot2
Open-source robot development kit for apps on wheels.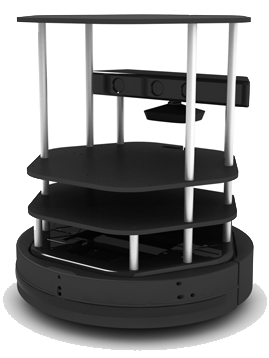 Quick Links
What is a TurtleBot?
TurtleBot is a low-cost, personal robot kit with open-source software. With TurtleBot, you'll be able to build a robot that can drive around your house, see in 3D, and have enough horsepower to create exciting applications.
What is a TurtleBot2
The TurtleBot2 is the 2nd generation of the TurtleBot following within the REP 119 specification
Hardware
The main hardware includes:
Kobuki Base
Asus Xion Pro Live
Netbook (ROS Compatible)
Kinect Mounting Hardware
TurtleBot Structure
TurtleBot Module Plate with 1 inch Spacing Hole Pattern
Software
The robotic software development environment includes:
An SDK for the TurtleBot
A development environment for the desktop
Libraries for visualization, planning, and perception, control and error handling.
Demo applications